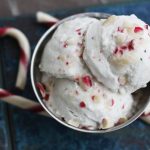 Peppermint Kefir Ice Cream
This recipe was inspired by my dad, Don, who loves peppermint. We had peppermint ice cream every year on Christmas and this version is made with kefir. It helps me still feel his spirit and especially at Christmas time. It's love made visible.
Add kefir cheese, coconut milk, honey, peppermint extract, and fresh mint into a high speed blender and blend.

Pour your liquid into an ice cream maker. It should be done in 15-25 minutes (depending on the type of machine you use)!

Top with crushed candy cane pieces.
www.CulturedFoodLife.com