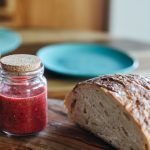 Strawberry Kombucha Jam
This is super easy to throw together and to add to sandwiches and pancakes and whatever your heart desires. You can also make this jam with raspberries or do both! It's super yummy and oh so easy!
Place all ingredients in a blender or food processor and pulse until the jam is smooth in texture.

Transfer the mixture to a container with a lid.

Storage note: This jam can be stored in an airtight container in the refrigerator for about a month.