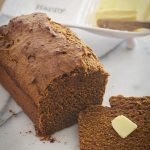 Sprouted Pumpkin Bread
I've found sprouted Spelt Flour is less dense than sprouted whole wheat flour and is better for cake and cookie recipes. You can even find it now at whole foods or sprouts!
Preheat oven to 350F and grease a 9x5" loaf pan

Whisk together Flour, spices, baking soda and salt in a large bowl

In a stand mixer mix together wet ingredients (pumpkin puree through eggs)

incorporate your dry ingredients into the wet ingredients and mix until just combined.

Using a spatula pour your mix into your prepared baking pan

Bake for 45-55 minutes or until a toothpick inserted into the center comes out clean.