Traditions
The Story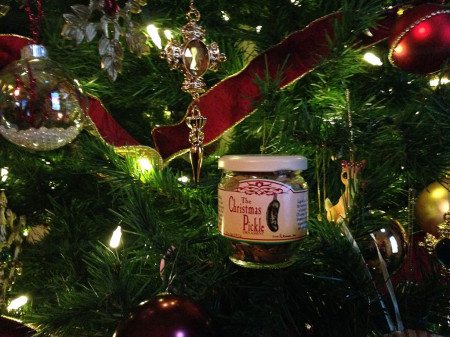 The Christmas pickle
is not really a pickle at all. It is a pickle-shaped ornament that is the last one hung on the tree on Christmas Eve. The story goes something like this…
Two Spanish boys were traveling home from boarding school to spend time with their families over the holidays. They stopped over to rest at an inn for the night. The evil innkeeper steals everything the boys own and then stuffs them into a pickle barrel. Now this very evening, who happens to stop by for a rest at the inn but St. Nicholas! He somehow becomes aware of the boys in the pickle barrel, taps the barrel with his staff, and in an instant, the boys are magically returned to normal. The boys thank St. Nicholas and continue on their journey home to celebrate Christmas with their loved ones.
Tradition of the Christmas pickle
The tradition of the Christmas pickle ornament supposedly hails from Laschau, Germany years ago. The pickle ornament was the very last one to be hung on the fir tree on Christmas Eve. The parents would hide the special pickle ornament deep inside the green fir boughs. On Christmas morning, the children immediately began searching for the special pickle ornament. They believed that the first child to locate the pickle ornament would receive an extra gift from St. Nicholas in addition to their other gifts. If the family couldn't afford the extra gift, the child who found the pickle ornament was the first one to open presents instead.
Magic Pickles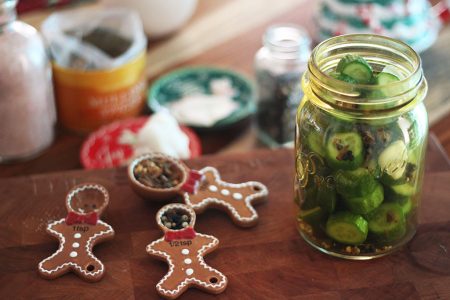 My daughter bought a pickle ornament to put on our tree to carry on this tradition. But pickles have their own legend in my house. They have written it on the lives and bodies of our family.
Here is one of the many stories of  the magic pickles at our house. Every summer I make tons of dill pickles. Then every winter we enjoy these pickles. But these are more than just pickles they are bacteria, virus fighting wonder pickles. Time and time again I have used the juice and the pickles to help someone sick come back to health. I have a million of these stories but I will tell you my latest story which happened a couple of months ago.
My 23-year-old son DJ called me from his home. He was very sick with stomach virus and was in a considerable amount of pain with stomach cramps throughout the night. With a 1/2 cup of pickle juice in hand I went over to his home. I went into his room, which was darken with no lights. There I found him in sorry shape. He said he hadn't slept all night because he stomach kept cramping. He was unable to keep anything down and also had a fever. I placed my jar on the counter and said," DJ take small sips of this juice every half an hour until the juice is gone. If you do this you will be up watching TV and eating some rice by tonight". Later that evening when I came back over to check on him he was sitting on the sofa watching TV and eating a bowl of plain rice. These magical pickles had done their magic again as they had done many times before. It is not to late to make these pickles. Run and get some cucumbers and a few other things and you can have pickles in a couple of weeks. I would highly recommend making some kind of cultured vegetable for cold and flu season. It is always so great to have cultured vegetables and their juice on hand in case someone comes down with something. And yes Virginia, pickles are magic!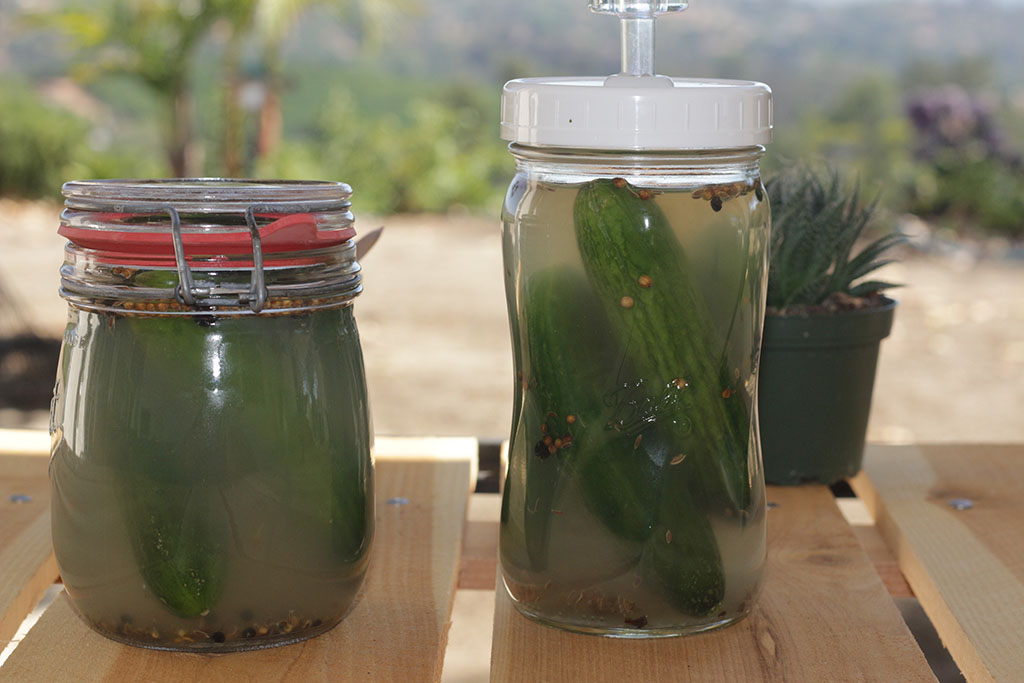 If you have ever had Bubbies Pickles, then you will like these pickles. You can even use these ingredients to make Dilly Green Beans. Fermented pickles have billions of probiotics and I have a pickle almost everyday. It only takes three days to make them and they will last up to nine months in your fridge. Give them a try!
~Donna
Ingredients
1

cup

Water

to mix starter culture

3-4

pounds

pickling cucumbers

3- to 5-inch is ideal, but if all you have is large cucumbers, cut them into spears

2

cloves

garlic

peeled and chopped

3

tablespoons

whole dill seed

2

tablespoons

whole coriander seed

1

teaspoon

whole mixed peppercorns

1

teaspoon

juniper berries

Optional
Instructions
If using the starter culture, stir together the culture and water. Let the mixture sit while you prepare the ingredients—around 10 minutes. If using kefir whey, add it when the recipe calls for culture.

Mix all seasonings and spices in a bowl with a spout for easy pouring.

Place cucumbers in jar. (Some of the seeds fall to the bottom.)

Seal the container and let it sit on your kitchen counter, out of direct sunlight, for three days. After three days, place the container in the refrigerator.

Check the vegetables every day to make sure they are fully submerged in the water. If they have risen above the water, simply push them down so they are fully covered by the water. If any white spots formed because the veggies rose above the water, do not worry. Remember, this isn't harmful. Just scoop out the vegetables that have the white spots on them and push the rest back under the water.
Recipe Notes
Storage note: These pickles can be kept in a covered airtight jar in the refrigerator for up to nine months.