Euro Cuisine YM80 Yogurt Maker
Description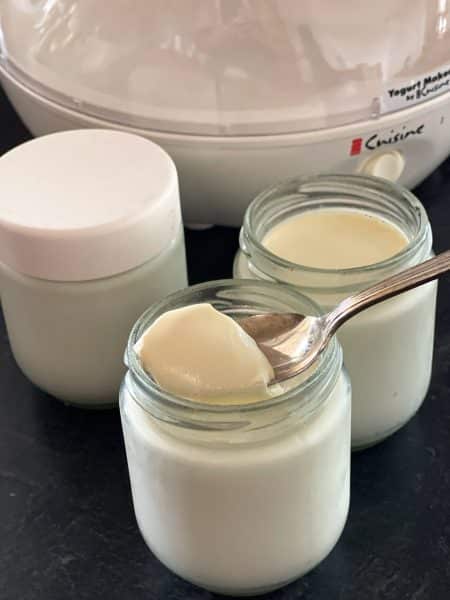 This is the yogurt maker I use and love. It allows me to make all types of yogurt. The most common one I make is raw milk yogurt. It makes the creamiest and most decadent yogurt that has lots of probiotics and enzymes and a layer of cream on the top. Recipe below.
You can enjoy making your favorite flavor, made fresh at home with little fuss and preparation. The entire process takes between 6 to 10 hours.
The yogurt maker includes seven – 6oz glass containers allow for making up to seven different types of flavors.
It comes with an on/off switch and light indicating the unit is working
Glass Jars are dishwasher safe
Three-year warranty and BPA Free
The timer on the side marks the time when yogurt will be finished cooking.
This is also an easy way to pack a jar of yogurt for a yummy lunch or snack. I love to add a scoop of homemade preserves on top for a quick and easy dessert.
Check out our yogurt starters! 
---
Raw Milk Yogurt Recipe
Raw milk yogurt is one of my very favorite yogurts. I love the little layer of cream on the top and the soft curd underneath. Raw milk has such a wonderful flavor and the texture is smooth, creamy, and comforting to eat. If you have access to raw milk give this recipe a whirl.
The powdered milk is added to allow the raw milk to thicken without heating it to a high temperature. Most yogurts heat the milk to high temps to allow the caseins to form a thick curd then the milk is cooled down and the yogurt starter is added. With raw milk you want to keep the beneficial bacteria and enzymes intact, so adding a little powdered milk does the trick to thicken the milk.
Equipment
Ingredients
42 ounces of raw milk
  7 tablespoons of powdered milk (helps the milk to thicken)
¼  teaspoon of powdered yogurt starter or 2 -1/2 tablespoons of already prepared unsweetened yogurt
Instructions
Place raw milk in a medium saucepan.

Whisk in powdered milk and heat raw milk over medium-low heat to 110 F°. Whisk or stirring constantly.

Once the temperature is reached remove from heat and whisk in the yogurt starter. This spreads the good bacteria throughout all the milk.

Make sure it doesn't get above 110° F so it doesn't kill the enzymes and vitamins present in the raw milk.

Place milk in yogurt jars without lids and incubate in your yogurt maker for 6 1/2 -7 hours. A consistent, luke-warm temperature is paradise, for all the good bacteria and promotes their growth.

Place the jars in the fridge to cool and set. Cool the yogurt in the refrigerator for a couple of hours. As the yogurt cools it will get even thicker!
Additional information
| | |
| --- | --- |
| Binding | |
| Brand | |
| CatalogNumberList | |
| Color | |
| EAN | |
| EANList | |
| ItemDimensions | 600, hundredths-inches, 950, hundredths-inches, 400, hundredths-pounds, 950, hundredths-inches |
| Label | |
| Manufacturer | |
| Model | |
| MPN | |
| NumberOfItems | |
| PackageDimensions | 740, hundredths-inches, 1060, hundredths-inches, 445, hundredths-pounds, 1050, hundredths-inches |
| PackageQuantity | |
| PartNumber | |
| ProductGroup | |
| Publisher | |
| Size | |
| sku | |
| Studio | |
| UPC | |
| UPCList | |