Orangeade Kraut. Let's Make This Easy!
by
Some days I wish I had been a singer, or at the very least a songwriter. The process of creating recipes feels the same to me. I'm putting my thoughts of food to my own music.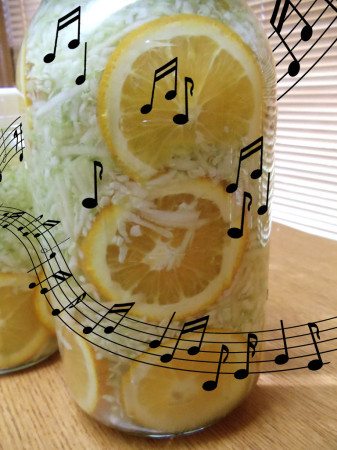 Music was and is one of the most important things in my life. I was a music major in college. I traveled with different bands and groups and we sang all over the country and overseas. I even have a couple of albums to prove it. Music is a constant companion and is the best friend I've ever had.
You might be surprised to know that every recipe I create has first been inspired by music that I am playing in my kitchen. There would be no books or blogs without the music in my ears as I write. When I initially attempted to write my first book, I gave up in frustration. I never considered myself a writer. One night, listening to soundtracks of movies on my computer, I was in a state of bliss and a thought popped into my head. It said, "WRITE!" It was just one word, one thought, and it jarred me and made me sit up. I wondered if that was my thought, because it seemed to come out of nowhere? So I began writing again, but now I was listening to music and downloading soundtracks. I wrote and wrote with ease, and in two months my book was done. It was the music that helped me accomplish this. Music inspires me, and everything in my life has been shaped by it.
Subtle things in our life that seem to be so small and go unnoticed are some of the most important things of all. If I have learned anything in this life, it is that wisdom comes in small ways and if you aren't looking for it, wisdom can pass you by. Small changes, little whispers can make all the difference. If you start paying attention to little nudges and small coincidences, it can change you life and make it magical.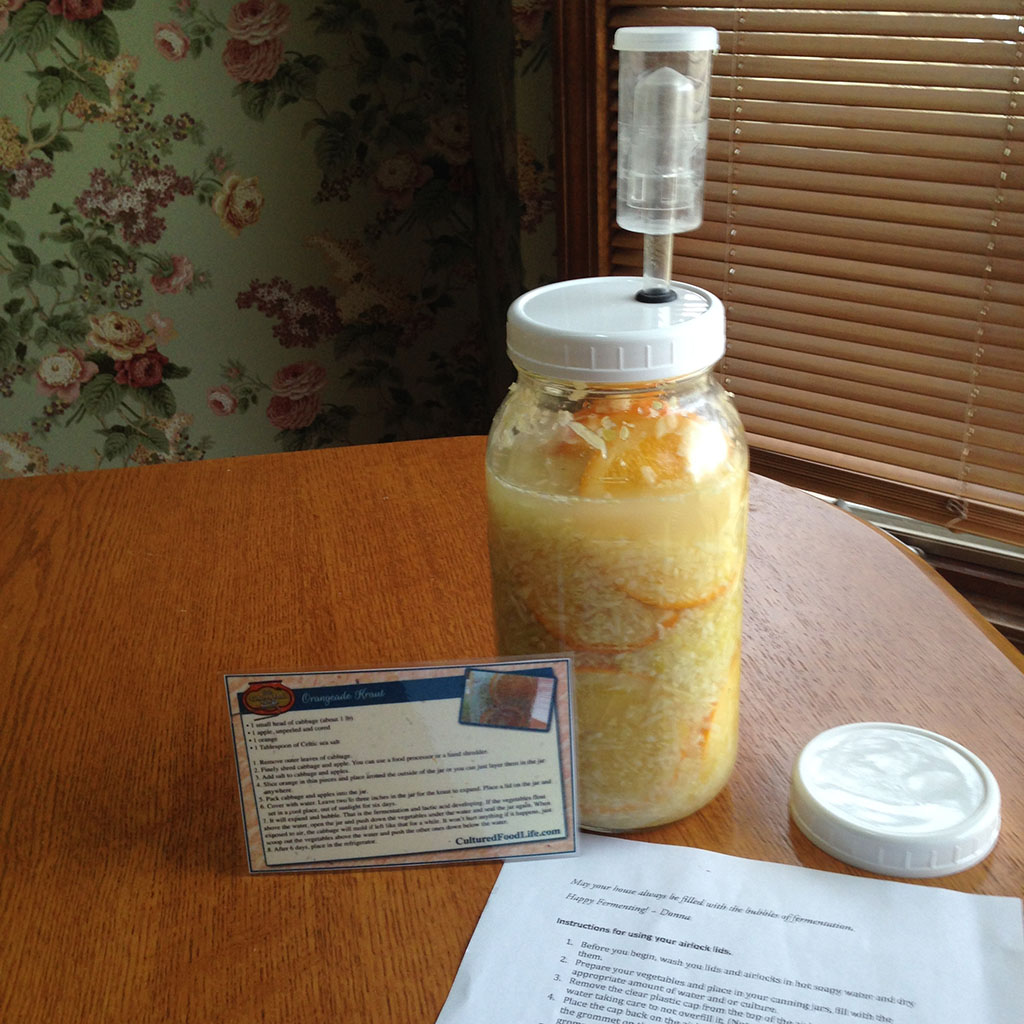 Why are you reading this blog? What has attracted you to learning about things like cultured foods and probiotics? Did you just happen upon them? Did someone tell you about them? It is not a mistake, my friends. Strange as this may seem, you are reading this for a reason.
If the only thing stopping you from engaging in this world is that you think it is hard and sounds confusing, or you don't know where to start, I understand this and I think I can help.
Here is a very simple recipe that you will love and you can make in a snap. You are my friends, and I care about each and every one of you and I want you to succeed. This recipe calls for no special culture, it's just food you can find at your grocery store and a couple canning jars. If you can have success with this one thing, then you will have the confidence to try another. It's how I learned, one step at a time, and it was fun. I will be the voice in your head that says, "Culture it!" Before you know it you will have cultured veggies sitting on your counter. They have trillions of probiotics in a spoonful. You will have done what you once thought was impossible and this will make you mighty. If you're still afraid, put on music and the fear will leave. Try my recipe and get started. Show yourself that you can make cultured foods in no time at all. Before you know it, you will venture into this unknown world with confidence, and will be sending me emails with your new creations.
I will be waiting for your emails.
"We can change our own life and ultimately change the world." ~Kristi Bowman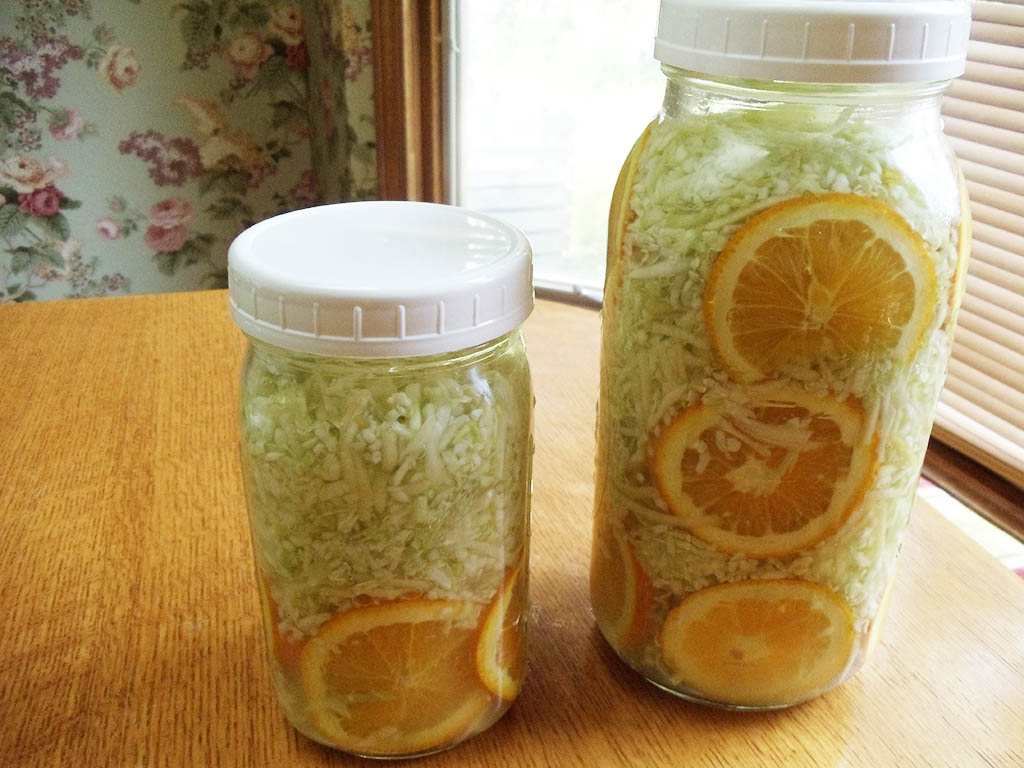 This recipe does not use a culture package, but you can add one if you'd like. You must add salt with this method to inhibit the growth of bad bacteria and to create an environment that is safe. When you add salt, the good bacteria will dominate and keep out harmful pathogens. I do believe that using a starter culture adds a lot more benefits, but this is a good method as well and the health benefits are many.
~Donna
Ingredients
1

small head

green cabbage

about 1 lb

1

apple

unpeeled and cored
Instructions
If using the starter culture, stir together the culture and water. Let the mixture sit while you prepare the ingredients—around 10 minutes. If using kefir whey, add it when the recipe calls for culture.

Remove outer leaves of cabbage.

Finely shred cabbage and apple. You can use a food processor or a hand shredder.

Add salt to cabbage and apples.

Slice orange in thin pieces and place around the outside of the jar or you can just layer them in the jar anywhere.

Pack cabbage and apples into the jar.

If using a culture, add the Cutting Edge Culture, or kefir whey, to the jar.

Cover with water. Leave 2 to 3 inches in the jar for the kraut to expand. Place a lid on the jar and set in a cool place, out of sunlight for 6 days.

It will expand and bubble. That is the fermentation and lactic acid developing. If the vegetables climb above the water, open the jar and push down the vegetables under the water and seal the jar again. When exposed to air, the cabbage will mold if left like that for a while. It won't hurt anything if it happens, just scoop out the vegetables above the water and push the other ones down below the water. After 6 days, place in the refrigerator.

They will last at least 9 months or longer in your fridge.