My body is made out of dilly beans
by
"Once you have tasted flight, you will forever walk the earth with your eyes turned skyward, for there you have been, and there you will always long to return."Leonardo da Vinci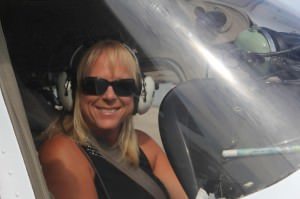 My dad had his pilot's license and would take me flying with him. I remember the very first time he took me flying. I was pretty little and as we took off to the skies I watched the houses and trees get smaller and smaller. I squealed and told my dad it looked like doll houses. I was in love with flying from that day on. After we had flown around a little while, he would cut the engine and show me how we could glide on our own. He explained that the plane was built for this very thing: to stay airborne naturally and then glide to safety if needed. He talked of all the safety mechanisms built into a plane and the aerodynamics of flying a smaller plane. Never once was I afraid. My dad had such confidence, not only in his own ability to fly but in the plane itself.
On my 50th birthday my sweet husband got me my first flying lesson. From the moment we started rolling down the runway till the time those wheels lifted off the ground, I could hear the voice of my dad as he said to me many years ago, "So you are gonna be my flyer?"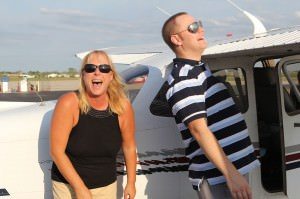 I had another flying lesson a few months ago. On this flight I realized what it was that I loved so very much about flying. It was the freedom to soar, let go, and see how high you can go.
I think all of us are firmly planted on the ground. Going through the motions and living life as best we can. Just as that plane was built to keep on gliding after the engine was cut, our bodies are built to keep on going. We can stay airborne for quite a long time. However the more we consume foods that aren't good for us, the harder it is to keep gliding and stay airborne. I struggled to get through a life that was once filled with sickness and disease. I was still gliding, but as time went on I inched closer and closer to the ground.
Then I realized that this vessel I lived in that housed my soul was actually here to take care of and help me; if only I would work with it. It was guiding me with symptoms that were not the enemy, but warning signs that I had steered off course.
Here is what I have learned about who and what we are: We are 100 trillion cells of bacteria. That is more than cells in the body. We are in essence sacks of living microbes that out number us by the trillions. So does it make sense to you that what you eat can enhance who you are?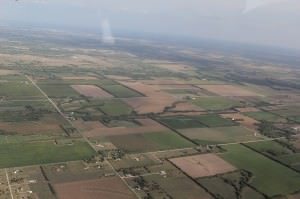 When I started eating cultured foods, everything started to turn around. The longer I ate them, the more I changed, and the easier it was for my body to keep me healthy. Each passing year I would find that problems such as allergies, aches, pains, and inflammation were lessening and then going completely away. It was like turning the plane's powerful engine back on. I was no longer gliding towards the earth, but instead started to soar higher and higher. I began soaring through life. The struggles were gone and life became an unspeakable amount of joy.
Do you realize that your body keeps re-making itself year after year? The body you have now, you did not have a year ago. A completely new vessel constantly rejuvenating itself and making itself new. It is made out of the foods you consume, so what are you made out of?
---
Here is one of the foods I eat to form and make the body I live in. They are not pickles but green beans. They have a dill flavor to them so I called them dilly beans. They are fermented and super easy to make. I grab a few here and there and before I know it, I have eaten and entire jar.
So if we are what we eat. I am pretty sure that I made a lot of body parts with these dilly beans.
Love your body and it will love you back. The next thing you know… you'll be soaring!

Ingredients
1

cup

Water

to mix the starter culture

1

lb

green beans

washed, chopped, and tailed.

filtered water

to cover veggies
Instructions
If using the starter culture, stir together the culture and water. Let the mixture sit while you prepare the ingredients—around 10 minutes. If using kefir whey, add it when the recipe calls for culture.

Add the green beans, garlic, dill seed salt and pepper to a quart jar.

Add the Cutting Edge Culture or kefir whey and cover with water, leaving and inch or two at the top.

Seal the container and let it sit on your kitchen counter, out of direct sunlight, for 3 days. After 3 days, place the in the refrigerator.
Recipe Notes
Storage note: This kraut can be kept in a covered airtight jar in the refrigerator for up to nine months.