Miracle Kraut Sandwich
by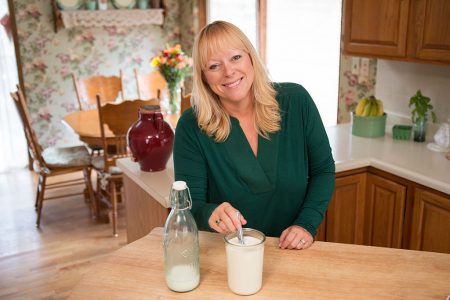 I was struggling and I called my editor to say, "I'm having a really hard time writing this chapter in my book. I hate writing about sickness and disease. I so believe in wellness that writing about this is really hard for me and I'm having a hard time finishing it." Laura, my editor said, "Write it down and tell your readers. Express to them how hard it is for you to write about this. They will understand and it will help you write the chapter." It was just the words I needed to push me through my writer's block.  Laura has this magical touch with me, and she was right; and the wealth of wisdom I learned from pushing myself and delving into the research of sickness and disease, and how bacteria affects it, was priceless. Once again, the dark places led me to the light and I hope it will do the same for you.
I've lived 55 years, and I believe this is long enough to have gained a lot of wisdom about how to live my life. I know, from the core of my being, that what you put out is what you get back. 
This also applies to your body. What you ingest, and the thoughts you think, will have an effect on the cells of your body and is the representation of the "you" that the world sees. If you eat something that you believe is bad for you, you can't have a good outcome long term. I was one of those people who ate foods for years knowing they were bad for me, but I couldn't stop doing it and I didn't know why. It tortured me. I bought every health book I could find and read them all. I had stacks and stacks by my bed that I would read every day. I tried tons of different diets and some had elements that helped, but none of them set me free.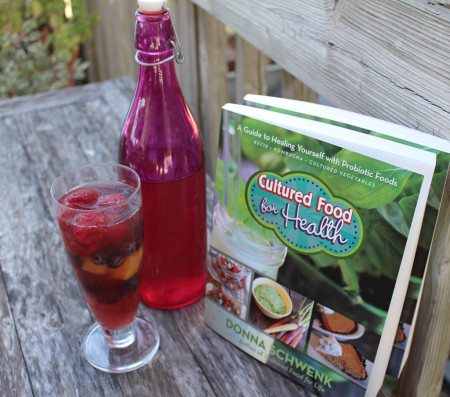 I did this for fifteen years and I just kept searching and searching. I would not give up. Then finally, when I got really sick and felt like I was at the end of my rope . . . it was then that cultured foods found me. They came into my life in a powerful way and changed my whole family, and then my friends began to get better, too. The chains fell off, the prison door flew open, and I was set free. It made me wonder – what if I got sick so that I could search and find the answer and then help others find it, too?  Those fifteen years of searching for the answers made me wise and helped me to understand the body in a way I would have never understood had I not searched for the answer for so long. What if I can shorten the process for everybody else and help them find a shortcut? What If I can teach you the things I have learned and you can easily incorporate them into your life. This is what my new book Cultured Food for Health is all about.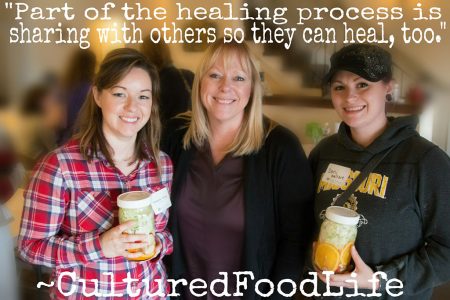 In my book, I explain how good bacteria lower your cholesterol by actually using it as a fuel source.
If food allergies are wreaking havoc on you, I can show you why you have food allergies and how to heal from them.
If someone you love has autism, then you need to read Mary's story. She healed her children from autism with the help of cultured foods. This section also includes a study done on autistic children and the powerful affect probiotics had on them.
If you are faced with chemotherapy, let me show you how your own bacteria will help you recover and will give you a better chance of survival if faced with cancer.
How about ulcers, acid reflux, IBS or diabetes?  All of these are affected by the flora in your body. When you change the universe of flora inside, the ailments have to retreat.
This isn't just a book to me. This is my life spilled out onto the pages – years of struggle, research, and darkness that led me to the light. I believe when someone creates something – whether it be a painting, song, or book – those who buy it are feeling and experiencing what the author felt when they were creating it. I hope you can feel the heart of who I am when you hold my new book in your hands, and that it helps you in an extraordinary way and sets you free.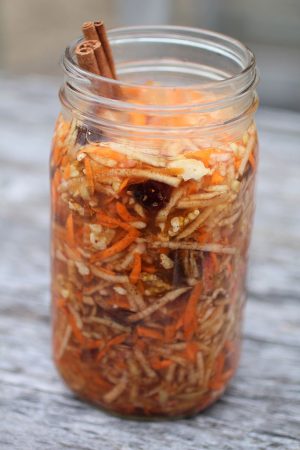 To get you started, between Now and Nov. 3rd I'm offering some free gifts when you buy my new book Cultured Food for Health. I included an Everyday Menu Plan and you will also get a free two-week Trial Biotic Pro membership to my site which gives you free access to my 50+ videos and exclusive recipes. The book has a 21 day start-up guide, over 100 new recipes, and everything I could think of to help you incorporate these foods into your life. My recipes are easy, cause I don't do hard! These are the foods I eat every day and I hope you will love them. Just wait till you try the Carrot Cake in a Jar. It's crazy good. This is my 14 years of experience and love for these foods wrapped up in my book and free gifts. I'm doing my best to make you feel better and help you find your way to the health and life you always wanted because you deserve it!
Pre-order now and get free gifts!
---
Here is one of the 100+ easy recipes from my new book Cultured Food for Health. We make this sandwich a couple of times a week. It's quick and very easy. Sometimes we overcomplicate things unnecessarily!
See the recipe
---
For My Biotic Pro Members: Two New kombucha recipes and eight new water kefir recipes!
In 1899, an American sailor accidentally mixed a bottle of cheap wine with elderberries. He found this relieved his arthritis and became the reason for a number of experiments on the healing properties of this fruit.  Elderberry syrup has been used for many years for the prevention of colds and flu. When elderberries are combined with kombucha, you get an extra boost and a crazy delicious drink that you will love, love!
See the recipe
---
Matcha literally means "powdered tea." Unlike traditional green tea, Matcha tea plants are covered with shade cloths before they're harvested. This triggers the growth of leaves with better flavor and texture. When it's combined with kombucha, it detoxifies the body, calms the mind and is rich in fiber, chlorophyll, vitamins, and antioxidants.
See the recipe
---
Nine new recipes for water kefir!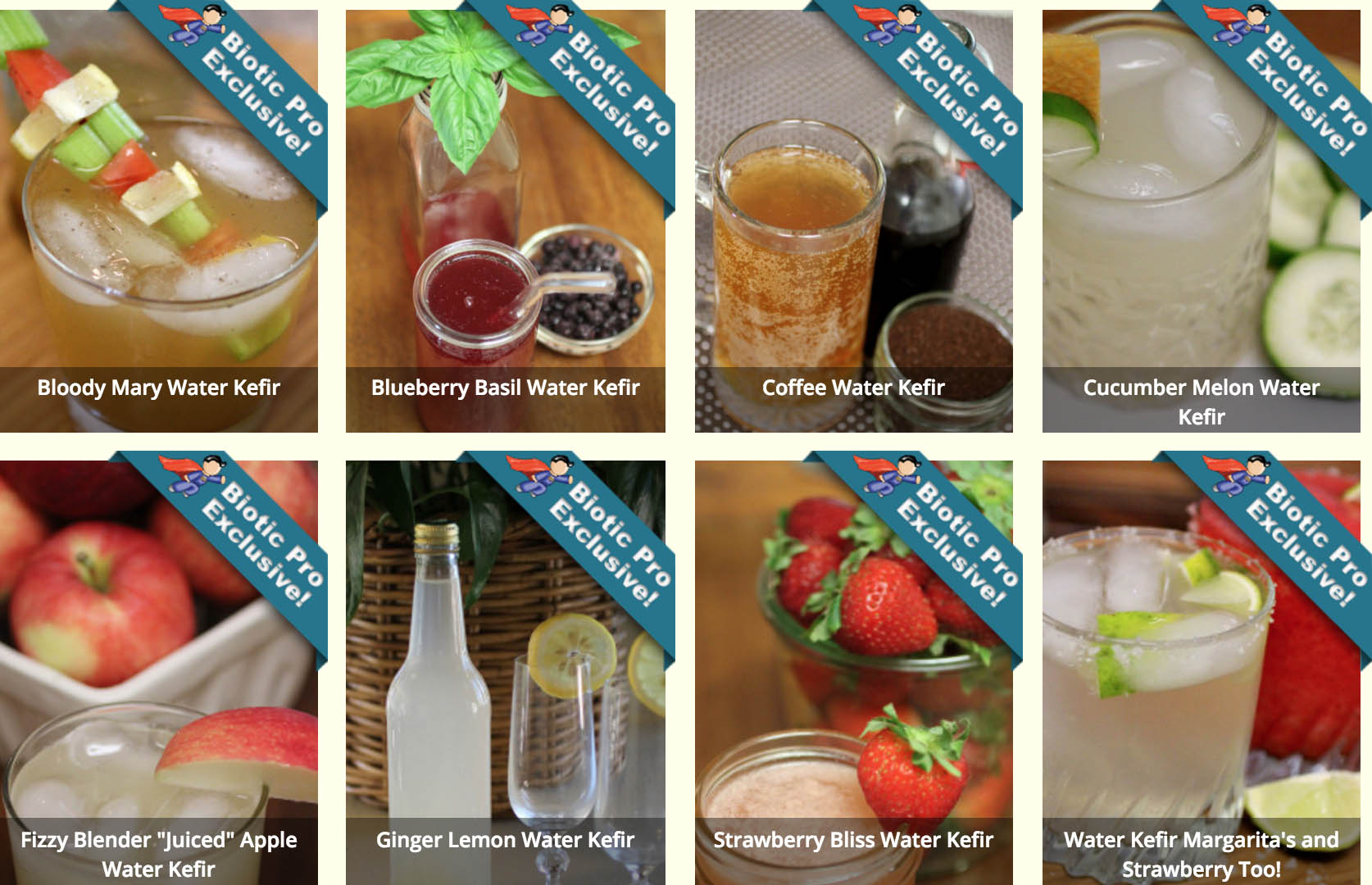 See the all the recipes