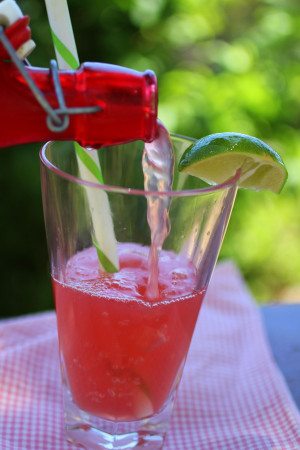 We have a cherry tree in our backyard. My husband is constantly telling me to get all the cherries before the birds do, but I seldom do. In the early hours of the mornings I hear the birds singing a sweeter song than normal as I watch them eat the cherries. 
People ask me all the time which I like better – kefir soda or kombucha? I prefer kombucha over kefir soda but I still like kefir soda, too. Kombucha has always given me more health benefits than kefir soda and here's why. Kombucha assists the liver in detoxification which has helped me greatly and is something I reach for after my daily workouts. Nothing like sweating and working out and then reaching for a cold glass of kombucha to help your liver flush out toxins. I love it!! Kombucha also has a special probiotic yeast called saccharomyces boulardii which is one of the most researched probiotics. It works in a myriad of ways by creating digestive health and protecting the gut lining. This probiotic yeast cannot be killed by antibiotics and will help you greatly if you do have to take antibiotics. It will only last a few days in your body after you consume some kombucha. This is one of the reasons I recommend you have kombucha often.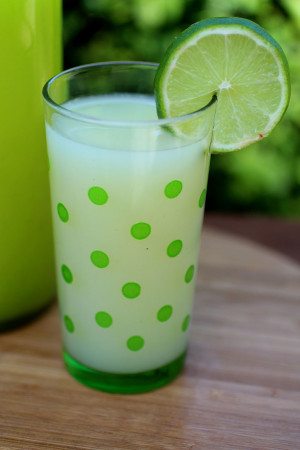 Kefir soda also has benefits with its many healthy strains of good bacteria. It is easier to make than kombucha and also is a great dairy-free alternative. I mostly drink kefir soda in the summertime. I love to make it with the summer fruits. It's refreshing and my favorite thing to have at the lake and holidays when everybody else is drinking sugar-laden alcoholic drinks. You can make unlimited combinations of kefir soda and it's really fun to experiment.  You can even make it with coconut water and it gives you a tart, bubbly drink with all the benefits of coconut water and much less sugar.
Here is a new summer recipe that you will love, and it's pretty, too! Cherry Limeade Kefir Soda

Cherry Limeade Kefir Soda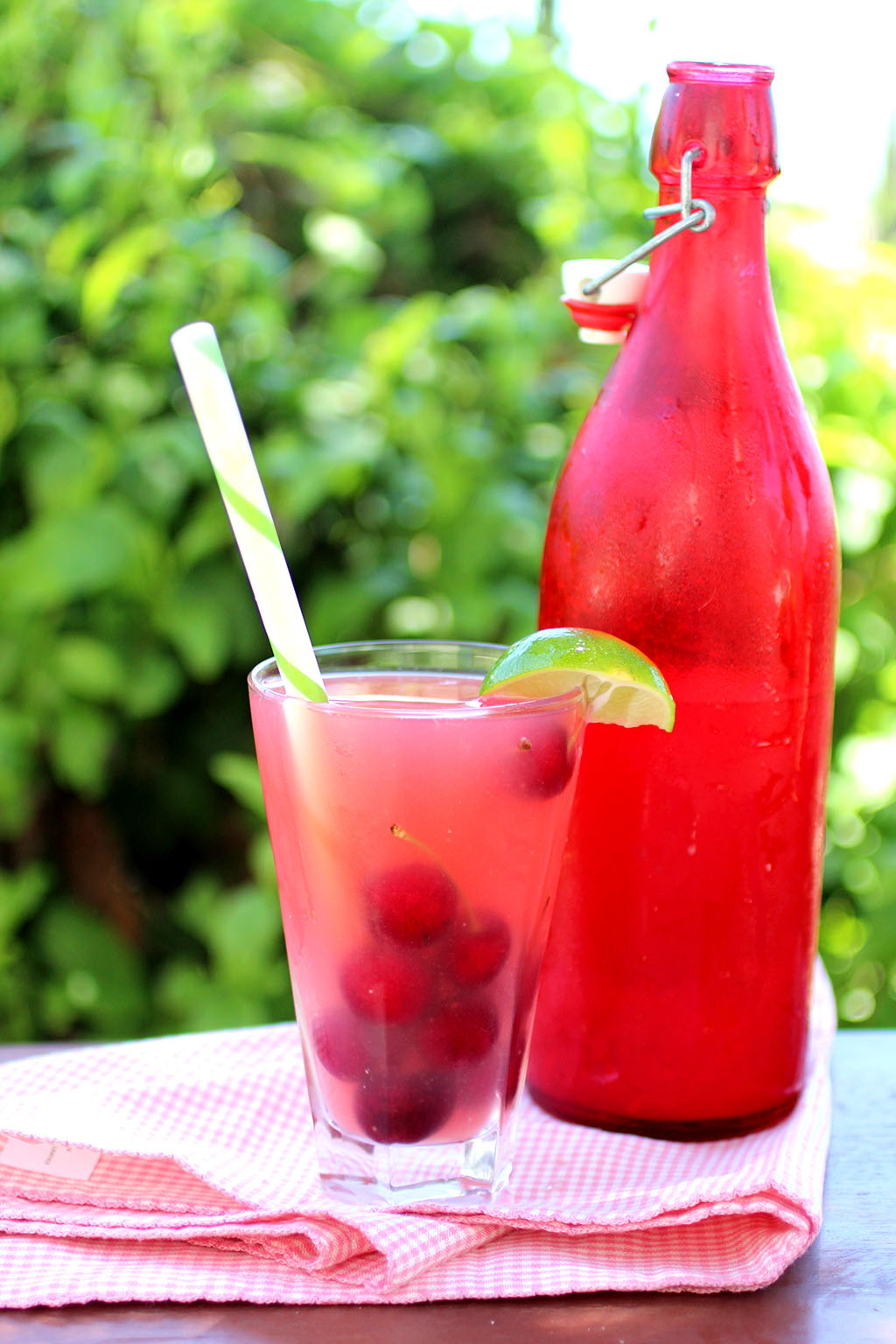 Cherries they are powerful medicine and yet no one ever talks about how incredible they are for you. Cherries are rich in antioxidants and work to eliminate by-products of oxidative stress, which slows down the aging process. They also have the antioxidant melatonin, which helps regulate the body's sleep patterns, making you more rested. All this in the little cherry! Add lots of fresh cherries to your glass for a pretty presentation and extra flavor. You can also tweak this recipe and make this into a delicious limeade. See instructions at the bottom of the recipe.
~Donna
Ingredients
1/4

cup

lime juice

Freshly squeezed or juiced if possible. About 5 -6 limes

Water

Lightly filtered or spring
Instructions
Wisk honey with your lime and cherry juice in a bowl.

Add your juice/honey to a 32 oz bottle. (Make sure you use bottles such as Grolsch or Bormioli thick glass bottles. Bottles bought at craft stores can explode.)

Add the Milk Kefir Starter (CFH) packet OR kefir whey to the bottle.

Fill the rest of the bottle with water leaving an inch of room at the top.

Allow to ferment 2-5 days. Until bubbly and fizzy.(Warmer homes will take less time).

You can pour in a glass and enjoy or store in the fridge! Consume within 1-2 weeks for the best flavor and most benefit.

You can use 1/4 of this finished kefir soda as a starter to make a new bottle. Add the other ingredients and ferment again. It should only take a 1/2 to a full day to ferment. It ferments faster and you can make many bottles over and over again!