How to Make Sprouted Flour
by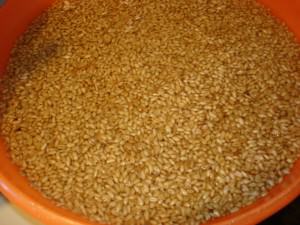 Jamie Quinn at http://essentialeating.com/ says; "Sprouted flour does not go rancid like all other flours do, and is more shelf stable? When whole grains are sprouted properly the germ cell is consumed by the endosperm and is no longer in a state that can become rancid. When grain is sprouted, and dried it becomes a stable food ingredient, allowing it to maintain its freshness and shelf life much, much longer than unsprouted flour. Unlike unsprouted flour, sprouted flour does not need to be refrigerated and will last at least 6 months on your counter."
Place wheat berries in a bowl.
Cover them with filtered water for 36 hours. They will get tiny little tails and be a little bubbly.
Rinse them in warm water and drain.
Place them in a dehydrator at 100 degrees for 8 to 10 hours.
Make sure they are crispy and hard. You can ruin your grain mill if your grains are wet.
Grind in grain mill for flour.
Store flour in sealed container.  Will last at least 6 months on your container.
https://www.culturedfoodlife.com/how-to-make-sprouted-flour/