Before you cast judgment on me. You got to try them. Go out in your yard and pick some day lilies and take a bite. They are so good. A cross between a cucumber and a zucchini but I think sweeter than both, day lilies are surprisingly good. I was at a ladys luncheon a week or so ago. One of my friends, Amy was telling me how edible day lilies are. I was like really? Never thinking that she was actually telling the truth, I decided to try one in my front yard while I was weeding one day. I was completely shocked it wasn't bitter it was slightly sweet. I ran in the house to tell my husband who said " WHAT!!!! are you kidding me I'll try a lot of things but I draw the line with flowers". After years of experimenting on him with cultured foods I decided to give him a pass. I wouldn't want to ruin en his manhood by blogging to the whole world that my man eats flowers Yea.. better leave this one alone.
Those Day lilies are everywhere and they are so pretty. They day lily has a long history in Chinese medicine and cuisine. The Chinese used them as a painkiller. Bach flower remedies, which contain lilies, are used on humans and animals alike. They can be eaten raw on the spot, or added to salads and all kinds of soups and stews. You can also boil, stir-fry or cream them. I haven't gotten that creative yet so my recipe is simple and pretty. I stuffed the flowers with a probiotic fruit dip. It sure will be a topic of conversation if nothing else.
Remember there are 30 plus good bacteria in kefir – and only a mere handful in Yogurt, A little bit goes along way.

Kefir Fruit Dip

CulturedFoodLife.com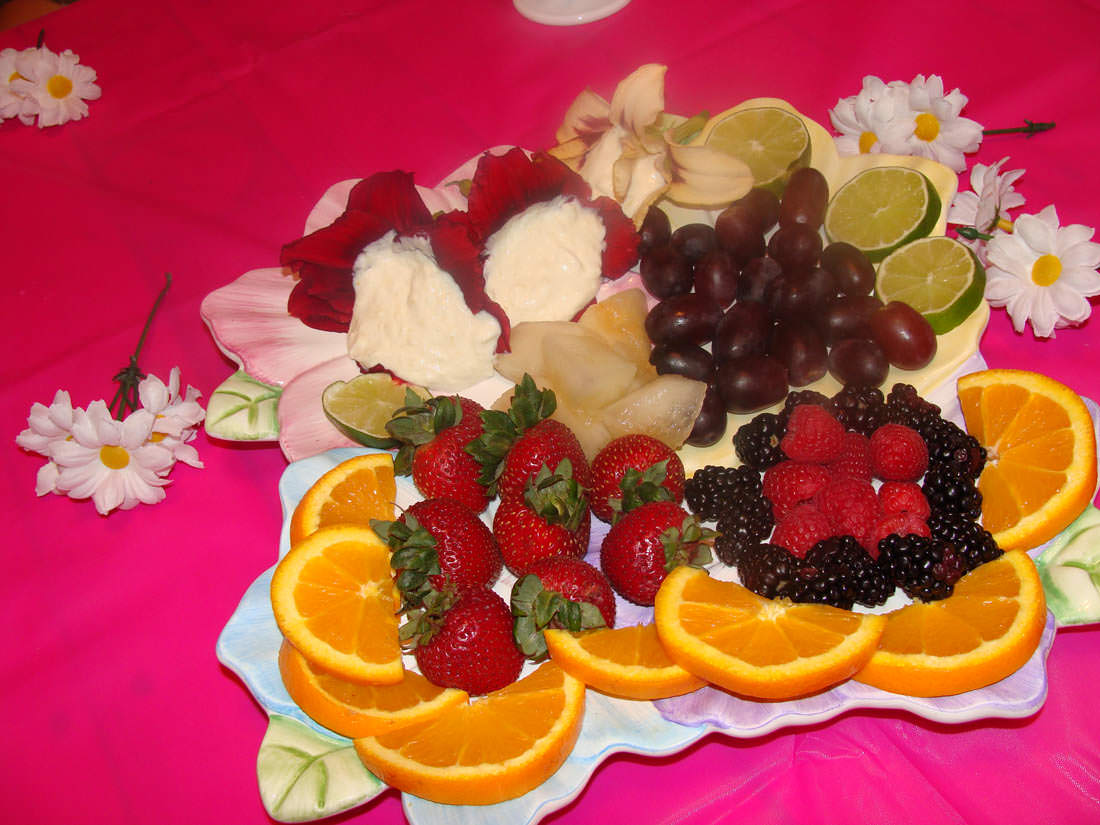 You got to admit it sure is pretty and it will please the inner world of bacteria and yeast that abide within us all. I love this stuff it has made me well and it gives me great joy to share it with you.~Donna

Ingredients
| | |
| --- | --- |
| 2 or 3 | day lilieswith the stigma removed |

| | |
| --- | --- |
| 2packets | SteviaOr you can substitute 2 teaspoons honey |
Servings:

Units:

Instructions
Combine all ingredients; mix well in food processor or by hand.

Combine all ingredients; mix well in food processor or by hand.

Place in day lilies when ready to serve.

Place in day lilies when ready to serve.

Serve with a large platter of mix fruit like, strawberries, blueberries, cantaloupe, raspberries,orange slices etc

Serve with a large platter of mix fruit like, strawberries, blueberries, cantaloupe, raspberries,orange slices etc
Day Lilies for Brunch. Inspiration for recipe from my sister, Danette

My Story

Get It Now!

Listen Live

Weekly Download

Donna's Store

Featured

Recipes

Categories

Get The App